Hello!
I am so enthusiastic about art and craft but I never really show it off because I don't want to clutter up my personal blog with photos and descriptions of what I have been doing. A friend of mine (LWD) has her own craft blog and it's just wonderful! I love seeing what she is up to and am inspired by her. So I decided to copy her idea and make my very own craft blog.
So what craft do I do?
I will try anything, once. And if I really enjoy it I will keep doing it.
At the moment I am passionate about Digital Scrapbooking - I've been doing it for almost 2 years. I love to scour sites for freebie kits and I have only ever paid for one kit in my whole life - which I have never used!! I personally think there are freebie kits out there that are better than what you can buy. It takes a bit of time to sift through the crud, but I think it's worth it.
This is an example of digi-scrapping.
This is out of my son's album. I hope to be able to post my layouts as I do them.
Another thing that I love to do is altered art. I love to alter canvases, clocks, boxes, you name it!! Altered art is pretty much scrapbooking, but minus the album. I tend to do altered art for gifts, it's easier to make it more personal.
This is a picture of an altered clock I made last Christmas. This one is quite simple, but anymore on it would make it look too busy.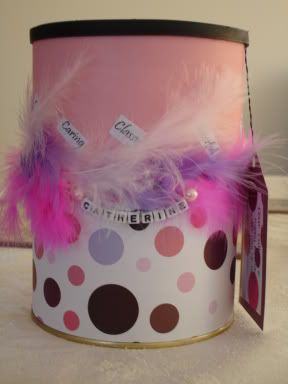 This is an altered tin I made for a girlfriend.
My Mum, who spoils me completely rotten, gave me a sewing machine this year. This has motivated me to learn how to sew. Not dressmaking... pffft... not a chance.... but sewing crafts.
LWD gave me a shove in the right direction to learn to patchwork quilt. I am still working on my first project because it is very time consuming, but I really love it!
Creating things is just so much fun. I can't wait to show you as I make things. Please feel free to comment on any post or photo.
:)
Love from Skipper