Hi everyone!
Well the last few days of the lead-up to Christmas were absolutely and completely insane! Here is an example of one of my freak out moments from my personal blog....
Happy birthday to me.... YIKES
I honestly didn't have time to scratch my head, let alone blog. So forgive me. I'll get around to doing a few of the projects I got done later on.
First things first, a big thank you to Car for hosting the annual Advent Blog Along. It was very fun, and I really enjoyed seeing what different things people posted about.
My next thing is that I am taking my vow to make 2012 the year of the cheap very seriously. Does anyone want to join me? 2012 is fast approaching and I plan to have a plan!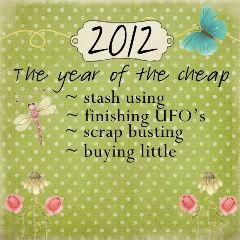 You will see a tally on the side bar with how much I spend during the year, and also you will see my completed objects on the 2012 Challenge page. It would be cool to see how much we can make with what we have, and how creative we can be. So if you want to join in, comment and I'll put your blog on "the list" on my sidebar, and then we can check each other's work out! If no one joins me that's fine. I'm still doing it!
Any craft is acceptable - scrapping, sewing, quilting, knitting, etc... The more varied the better! We can all be inspired by different types of creativity.
Happy New Year! I hope 2012 brings you and your family joy and many good times. 2011 was a crap year for so many, and I hope that crap is now over and we can look forward to a better future.